Click on picture for larger image - then click BACK to return to this page.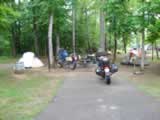 I rode up there with Steve Johnson of the BMWDFW club. On Wednesday night we set up camp in the pitch dark at Rock Island State Park in Tennessee after a 760 mile day. Good sleeping even with the big rain, lightning, and wind storm that passed through during the night.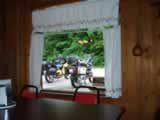 The next morning having breakfast with the 'locals'.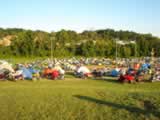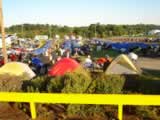 Tent City. The rows of blue tents are the Sherpa tents. Kinda like staying at a Holiday Inn that's a tent. Well, probably not quite that nice. The tent, that is.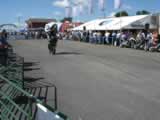 This stunt guy did some amazing wheelies and stoppies and a lot of tire spinning. Here he is dragging the fender on a stock F800GS. He never faltered.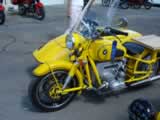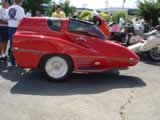 The yellow bike won first place in some category. If you look closely you will see a /7 engine in an R69 frame. The red one looks like it would be murder in the heat. I saw no signs of A/C.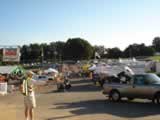 There was a one-way path through the Appalachian Fairgrounds with a constant stream of bikes coming in and out.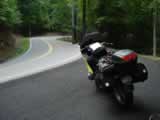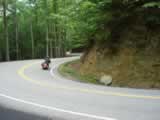 These were taken on the Tail of the Dragon. I rode it on Monday before riding the Cherahola Skyway. Hardly any traffic. The picture of the Harley was taken seconds before I heard two loud scrapes and watched him disappear safely out of site.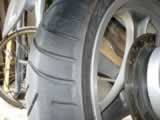 Here's my chicken line.